Μάθε τώρα Εύκολα, Γρήγορα κι απλά που βρίσκεται το λεωφορείο σου!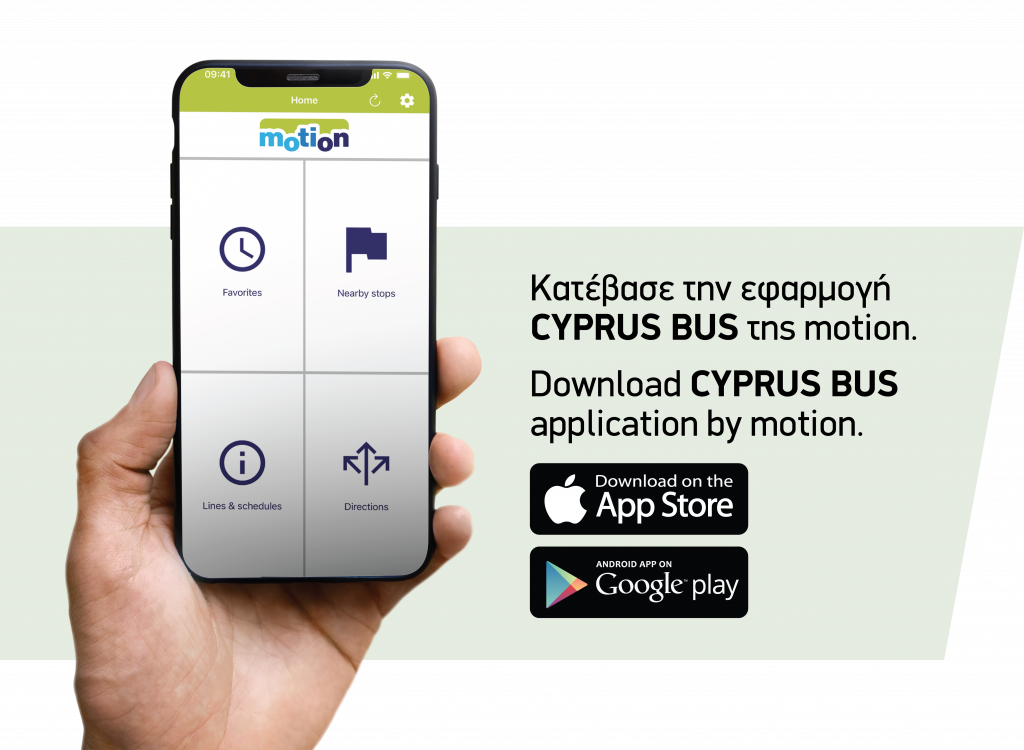 Εσύ κατέβασες την εφαρμογή "Cyprus Bus" της Motion;
Η Νέα Εποχή στις Συγκοινωνίες!
Μάθε τώρα Εύκολα, Γρήγορα κι απλά που βρίσκεται το λεωφορείο σου!
Το "Cyprus Bus" της Motion, είναι η επίσημη εφαρμογή του Υπουργείου Δημοσίων Μεταφορών, Επικοινωνιών και Έργων της Κύπρου.
Παρέχει όλες τις πληροφορίες σχετικά με τα δρομολόγια λεωφορείων στην Κύπρο και την πραγματική ώρα άφιξης του λεωφορείου σε κάθε στάση
ς.
What changes with intercity buses?
Intercity also has a contractual obligation and will soon proceed with the installation of a complete fleet management system, automatic ticketing systems, electronic passenger information systems and the creation of intelligent bus stops.
Travelling a lot around Cyprus?
Why not try our monthly or annual tickets!
Some of the other immediate priorities of the organization are:
The increase in the number of people using the bus and the successful installation of the bus as the most reliable and safe form of transportation.
Full commitment to efficient and effective bus services and the provision of information to all passengers, with personalized care for people with disabilities and mobility problems.
A further extension with:
a) new regular bus extension of the existing routes with more frequent bus routes during the summer months and festive periods such as Easter-Christmas.
The effective protection of our natural environment and the gradual alleviation of traffic congestion.